Take your Forte GT up a notch with our ALL-NEW VAREX Valve equipped system, designed to take your Forte to the next level.
Our most recent offering includes a downpipe and cat-back system to suit the newly released Kia Forte GT, unleashing the full potential of the 1.6L Turbocharged engine and enhancing the driver experience.   
This system has been crafted to bring you the perfect blend of power and sound, starting with our cutting-edge VAREX Valve equipped Catback system which features 3" stainless steel pipework, a VAREX rear muffler, and 3.5" quad double wall tips.
The system uses our cutting-edge patented VAREX Valve technology, allowing you to switch from Street to Race mode using the remote control or optional SmartBox system which offers smartphone app control.
Over 20 years of exhaust development and technical expertise have gone into creating the ultimate bolt-on performance exhaust system, providing power increases throughout the rev range, improving throttle response combined with the signature XForce Exhaust note.
Bolt-On Cat-Back Exhaust System Features | RRP $795 
3″ Stainless steel pipework 

Varex Rear Muffler

Cat-back system 

Factory secondary cat converter is deleted

3.5" double wall tips 
Pair it with SmartBox
Precise manual adjustment, at the touch of a button. VAREX SmartBox is an optional control device with patent-pending technology that lets you manually or automatically adjust the exhaust sound level of your VAREX exhaust via your smartphone.
Learn more about the features including the innovative Geo Mode here.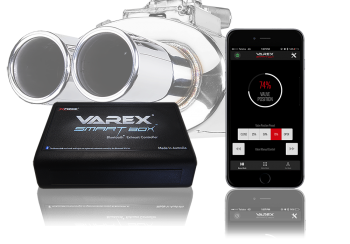 Available now from all authorised dealers. 
Purchase one of our Forte GT systems today by clicking here.