XFORCE FOR VOLKSWAGEN GOLF GTI MK7! AVAILABLE NOW.
MK7 Volkswagen Golf GTi owners! Your calls have been answered. XForce Performance Exhaust is proud to announce the global release of our VAREX Bolt On Solutions for the MK7 GTi.
Hot off the launch and growing demand of our MK7 R systems, our all-new MK7 GTi system incorporates our expertise and learnings to offer a unique Cat-Back System, Dump and Cat, and optional Tips for GTi owners.
Our new system has been designed to fit seamlessly with the MK7 GTi platform and provides an unparalleled experience, power, and sound output.
XForce understands that the MK7 MQB is a capable platform so we worked closely with owners, enthusiasts, and tuners within the industry to create a system that owners truly desire. The result is a performance-based offering that'll snap, crackle and pop!
Our dedication is further exemplified by the availability of optional exhaust tips. All of our systems ship standard with a Polished Stainless tip, however, two optional tips are also available. Pick from either a subtle Shadow Black tip or stand out from the crowd with a visually stunning Titanium Blue tip.
Being a VAREX system, owners are given control straight out of the box by being able to select an open or closed valve position at the touch of a button via two supplied wireless remote controls.
Pair your VAREX with our optional SmartBox system, and you'll have even more control! Our Patent Pending SmartBox technology lets you adjust your exhaust system via your mobile device when you pair it with our Bluetooth App.
This means that you can select precise valve positioning from a 0% to 100% open or closed range and get access to a Geo Mode so you can get the right sound at the right place. No more easing off the throttle when you get home late at night or bothering the neighbors with early morning cold starts; simply set a region and preferred output using our app and SmartBox will remember your settings and automatically apply the desired output as you get in range.
As part of the new line, two products are available. A Cat-Back Exhaust System and Downpipe and Cat Kit.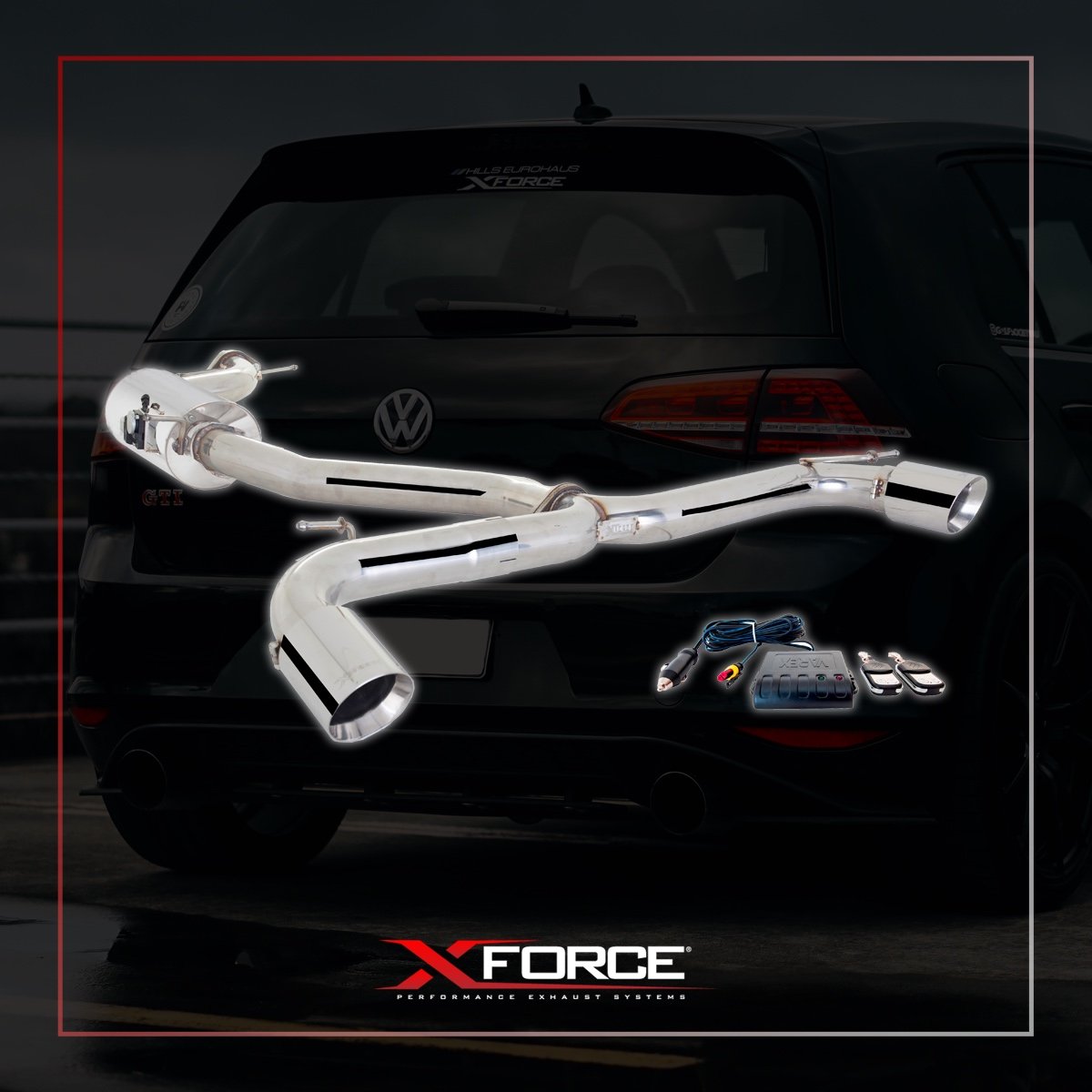 VAREX Cat-Back Exhaust System features:
– VAREX center muffler
– 3" polished stainless steel construction
– 3" stainless steel pipe rear
– Twin 4" tips
– Optional Shadow Black Chrome tip kit
– Optional Titanium Blue tip kit
Downpipe and Cat Kit features:
– 3" dump pipe from turbo
– 3" connector pipe with resonator
– 100 cell high flow cat
– Will only bolt directly to an XForce axle-back system
Our 20 years of creating innovative performance exhaust systems have culminated into our range of products for the MK7 MQB platform and we're excited to share the next chapter to MK7 GTI owners.
The new system is available now from your local authorized dealer.
To find a dealer, click here.