Hyundai owners, the wait is finally over! Introducing our Veloster N product range. Built for power and sound, with versatility in mind.
ABOUT THE NEW RANGE
For Veloster N, we collaborated directly with international Hyundai N Performance divisions and i30N owners to produce the best possible output for this exciting new platform.
Our new range will take your Veloster N to the next level and comprises of a Cat Back Exhaust System, Downpipe Kit, Centre Pipe or Rear VAREX Muffler (Which Includes our SmartBox).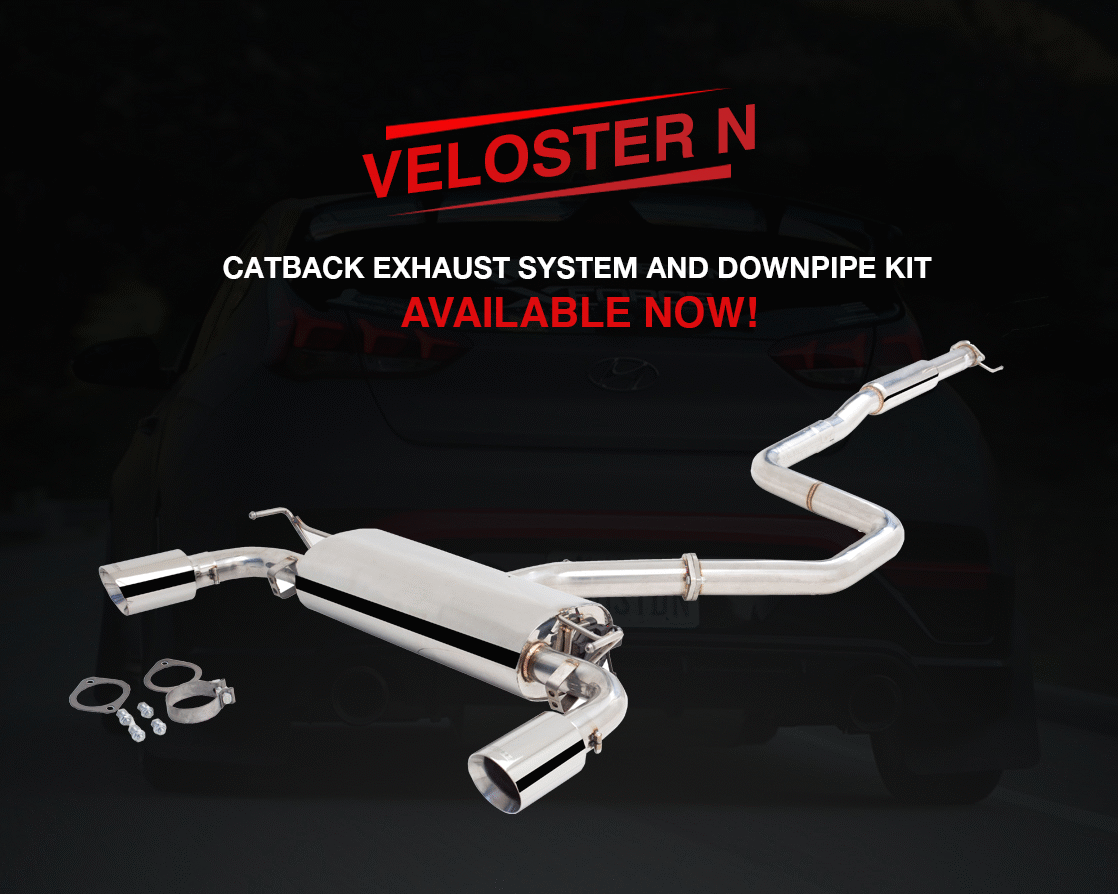 SYSTEMS AVAILABLE
1. Cat-Back Exhaust System, Featuring:
304 grade stainless steel
Varex, giving you variable control of your system
Kit includes Varex SmartBox for full bluetooth App control
Geo mode via SmartBox for the right sound and right place
Optional Shadow Black Chrome or Blue Tip Kit
3" tubing
5 year warranty!
MSRP $950
The All New Hyundai Veloster N Varex Cat Back system features our patented Varex and Smartbox valve technology giving you the ultimate in sound and control. Cruise in quiet mode and relax or hear that growl, crackle and pop the N is famous for.
This means that you can select precise valve positioning from a 0% to 100% open or closed range and get access to a Geo Mode so you can get the right sound at the right place.
No more easing off the throttle when you get home late at night or bothering the neighbours with early morning cold starts; simply set a region and preferred output using our app and SmartBox will remember your settings and automatically apply the desired output as you get in range.
All of our Cat Back Exhaust Systems ship standard with a Polished Stainless tip, however two optional tips are also available. Pick from either a subtle Shadow Black, or stand out from the crowd with a visually stunning Titanium Blue tip kit.


2. High Flow Down Pipe, featuring:
4" into 3" with 4" 100 Cell Cat Stainless Steel
304 grade stainless steel
Double braid flex bellows
Laser cut flanges
Capability to produce over 300WHP when combined with our 3" Catback system and ECU tune!
MSRP $599
3. Centre Pipe, featuring:
A modular design that fits factory or XForce downpipe and rear muffler
3" tubing
304 grade stainless steel
Tig welding
5 year warranty!
MSRP $299
4. Axle back or VAREX Cat Back options:
SKU ESHY30NVKCS
SKU ESHY30NVKAS
MSRP $520 – $950
The new system is available now from your local authorised dealer.
To find a dealer, click here